Breakfast
Lets start with the start of the day, as good a place as any. I will update this as I have time and ideas.
1)
French Toast Casserole with Granola Topping:
I had this one today and it came out well. I sprayed a corningware dish with butter cooking spray and cut up 2 slices of low-calorie wheat bread and set it inside. I mixed separately 1/2 cup eggbeaters, 1/8 cup skim milk, some cinnamon, Splenda, and vanilla extract and poured this mixture over the bread. Just to save time in the morning I refrigerated this overnight but that isn't necessary. I baked it at 350 degrees for 20 minutes, mixing once, then topped with 1/2 a banana, 1/4 cup cranberry-orange granola, 1/4 cup sugar-free maple syrup, and 1 tbsp of sugar-free whipped cream.
259 calories, 1.8g fat, 21g protein, 53g carbs, 375mg sodium
.
2)
Cheerios and Granola Cereal
: 1 cup Cheerios (frosted or plain), 1/4 cup Galaxy Granola Not Sweet Vanilla or Cinnamon, 1 cup Carb Countdown Fat Free Milk and 2 tbsp of raisins or 1/2 a banana sliced.
With Raisins: 266 calories, 1.8g fat, 13.6g protein, 57.6g carbs, and 376.4mg sodium. With Banana: 258 calories, 1.9g fat, 13.6g protein, 56.8g carbs, 374.8mg sodium.
3)
Pumpkin Wheat Pancake
: 1/3 cup Krusteaz Wheat & Honey Pancake Mix, 1/4 cup water, 1/8 cup egg substitute, 1 tbsp pureed pumpkin, 1/4 tsp cinnamon, 1/8 tsp ground cloves, 1/8 tsp ground ginger, 2 tsp Splenda, and 1/8 tsp nutmeg. Mix all ingredients together to form the batter then cook in griddle or skillet over medium heat sprayed with butter cooking spray. I like to make just 1 big pancake instead of several small ones.
Serves 1 at 226.5 calories, 1.3g fat, 9.2g protein, 44.5g carbs, and 479.2mg sodium.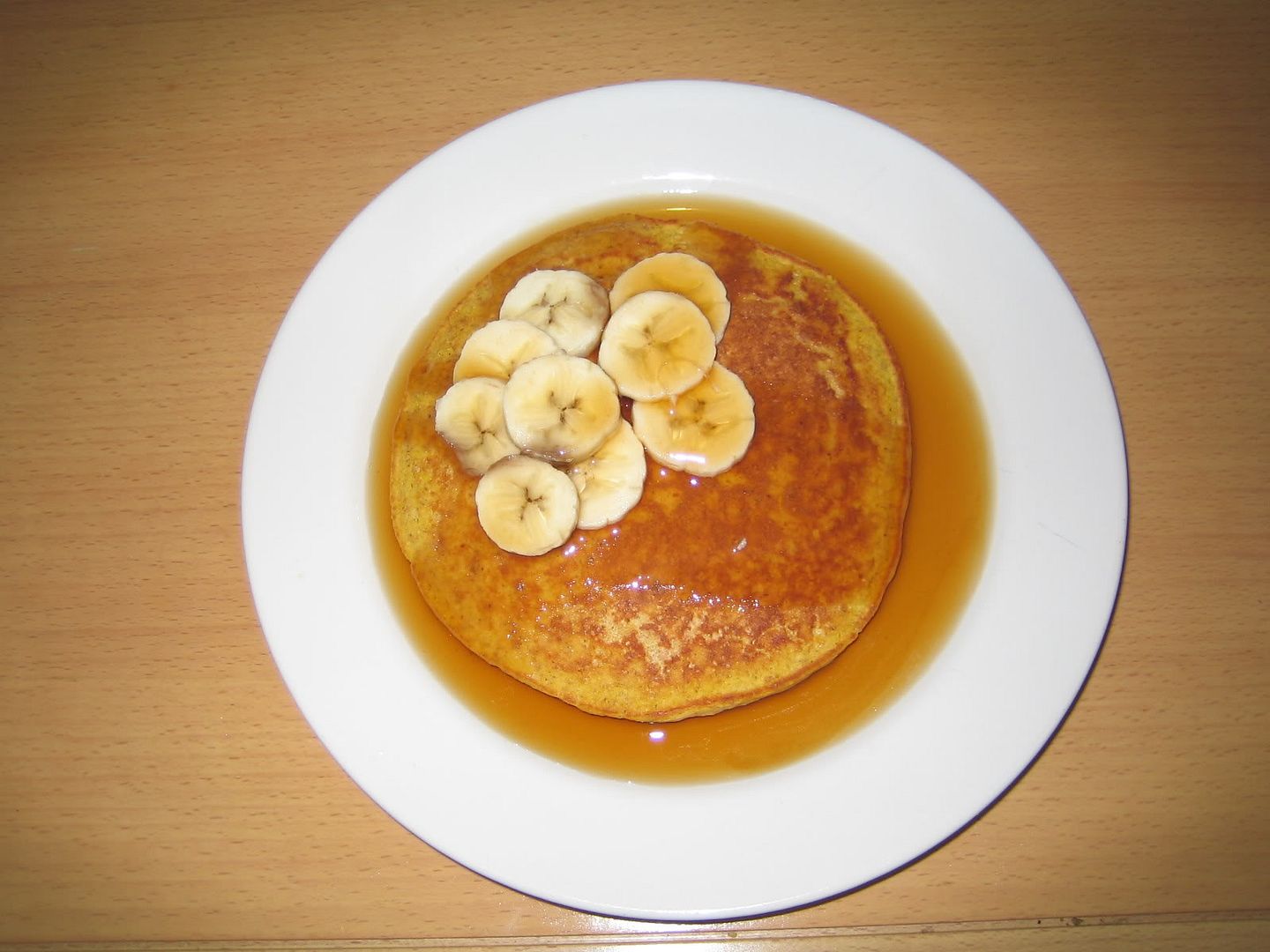 4)
Organic Polenta and Egg "Flower":
This is a low-cal breakfast. Preheat broiler. Slice up 1 to 2 servings of Trader Joe's organic polenta, put in skillet coated with cooking spray and condiment with 1/2 tsp oregano, 1/2 tsp garlic powder and some pepper. Broil for about 10-15 minutes, flipping once. For the egg, either put in a mini round skillet sprayed with cooking spray, or break over polenta once polenta is browned, add additional seasonings of choice and top with some butter cooking spray then boil until egg sets (egg will continue to cook once removed from oven so adjust accordingly).
With 1 serving of polenta: 147.2 calories, 5g fat, 8.3g protein, 15.4g carbs, and 486.6mg sodium.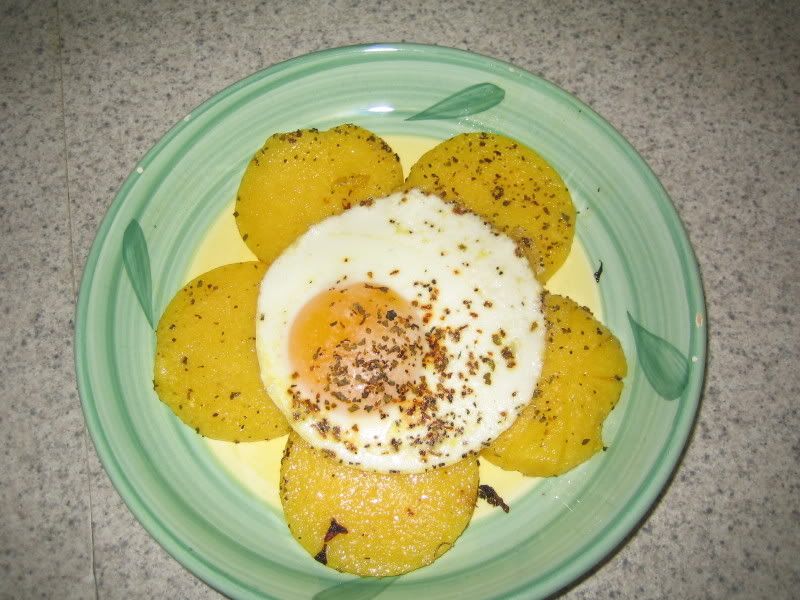 5)
Peanut Butter and Honey Bagel
: 1 Perfect 10 Bagel split in half and toasted then topped with 1/2 tbsp of chunky peanut butter and 1 tsp of honey. Add sliced banana to top it off.
264.4 calories, 6.2g fat, 20.6g protein, 40g carbs, 408.5mg sodium.
6)
Almond Butter and Jam on Wheat English Muffin
: 1 Oroweat 100% Wheat English Muffin, spread with 1/2 tbsp Almond Butter, 1/2 tbsp fig jam and top with 1/2 a sliced banana or dried fruits like fig.
Without fruit: 205.3 calories, 6g fat, 8g protein, 34.4g carbs, and 243.2mg sodium.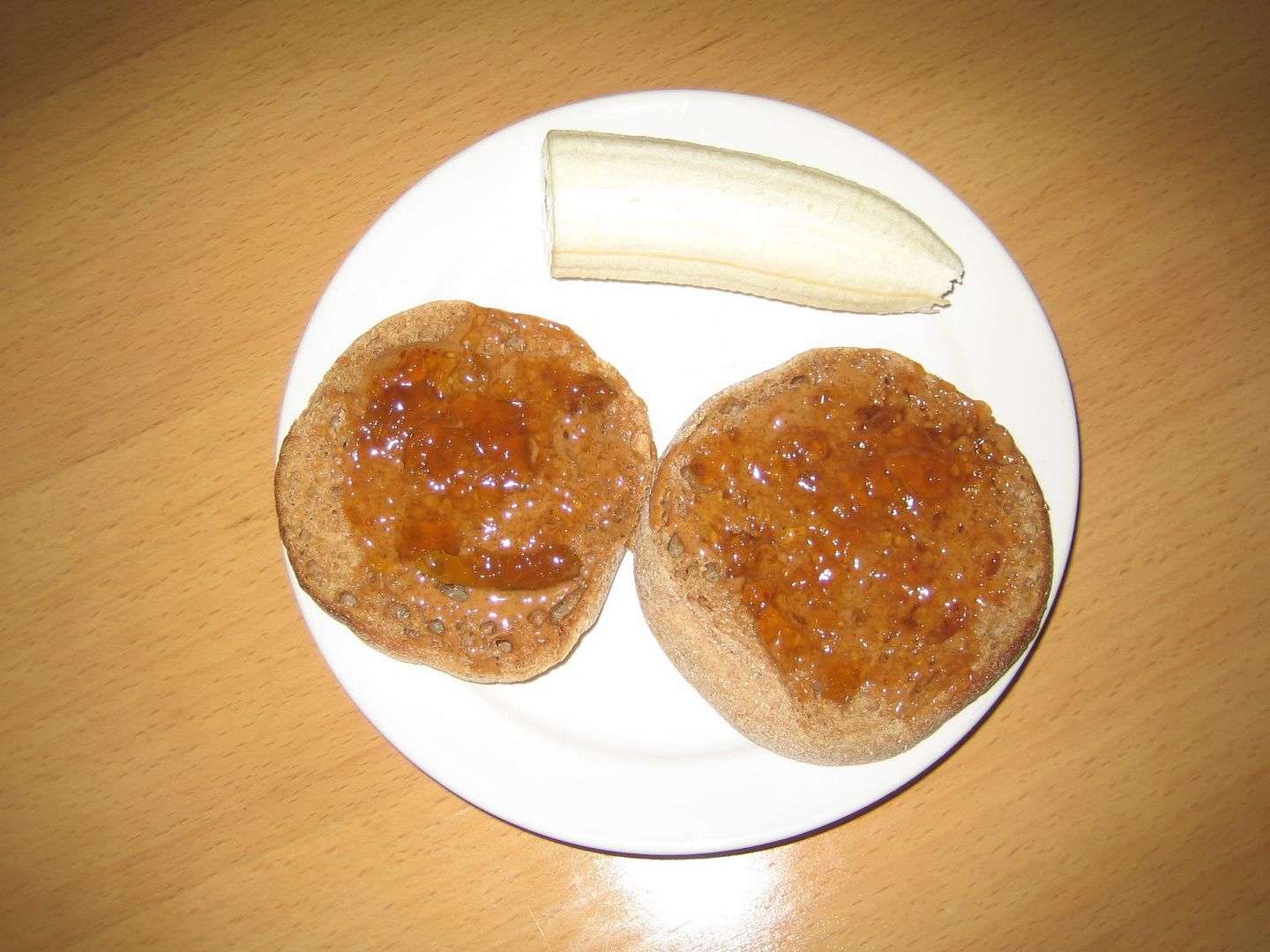 7)
Pumkin Pie Banana Shake:
One of my favorites when I want a shake. Combine in blender 1 cup Carb Countdown FF milk, ice, 2 1/2 tsp Splenda, 1/2 tsp cinnamon, 1/4 tsp ground cloves, 1/4 tsp ground ginger, 1/2 tsp vanilla extract, 1/2 a medium banana, 1/4-1/2 cup vanilla yogurt, 1/4-1/2 cup canned pumpkin. Top with crushed low-fat graham crackers if desired (stats are without it).
With 1/4 cup pumpkin and yogurt: 149.6 calories, 0.5g fat, 10.9g protein, 26.5g carbs, and 191.5mg sodium; with 1/2 cup pumpkin and yogurt: 190.5 calories, 0.6g fat, 13.1g protein, 34.8g carbs, and 220.5mg sodium.
8)
Yogurt Parfait
: In a bowl I layer 1/2 cup vanilla yogurt, 1/4 cup granola, 1/4 sliced banana or 1/2 a serving of any fruit, 1/2 cup yogurt, other 1/2 of fruit and topped with the other 1/4 cup granola. Serve with a dallop of fat-free whipped cream.
Without whipped cream using banana: 243 calories, 1.7g fat, 14g protein, 67g carbs, 116mg sodium
.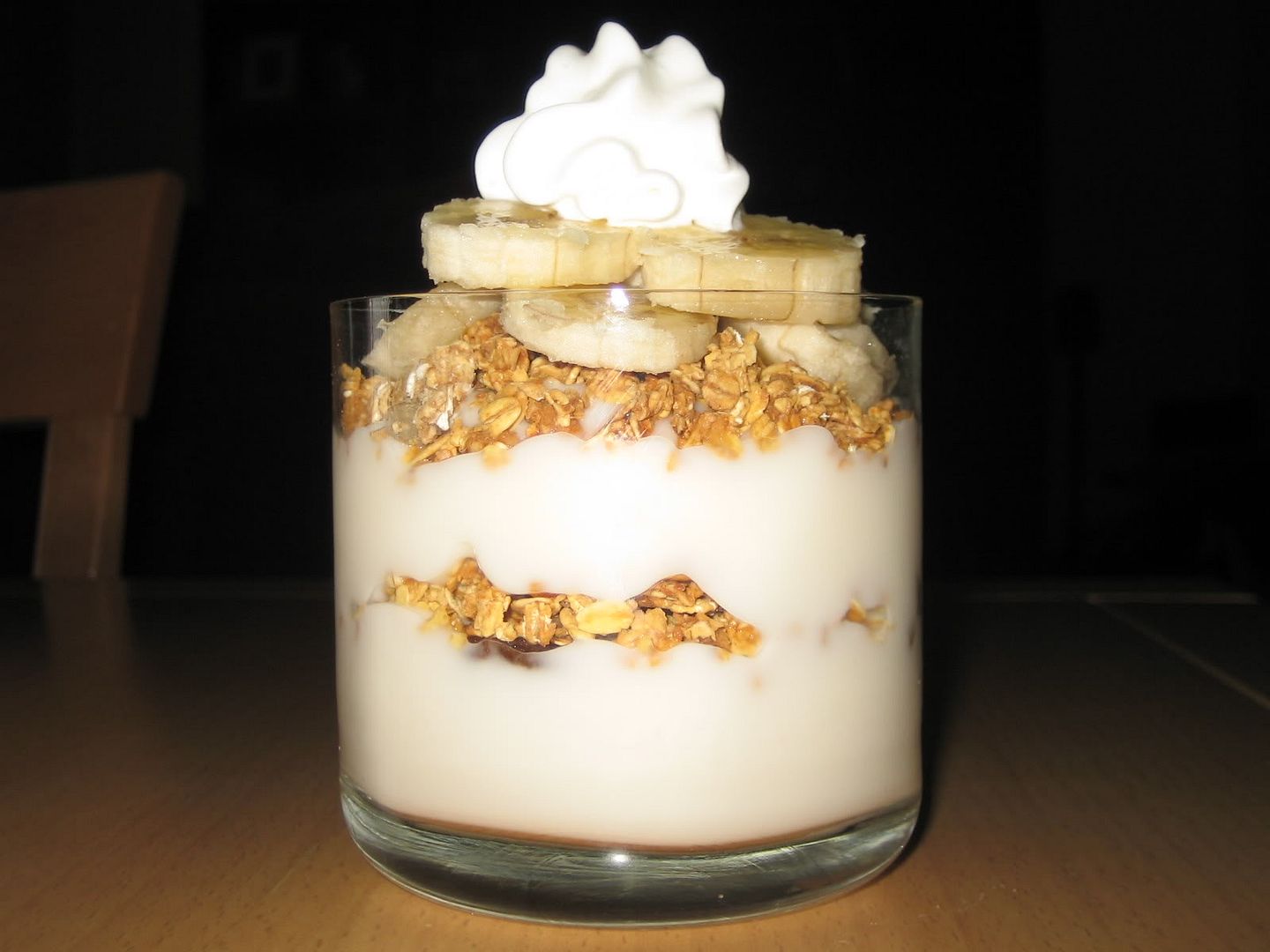 9)
Spinach Omelet
: First of all I heat 3 cups of fresh spinach on a skillet coated with butter cooking spray to wilt it. I season the spinach with garlic powder, pepper, and salt then distribute 1/2 cup eggbeaters on top and let it set. Once set I add 1/2-1 oz of brie, fold over and cook, then flip and finish cooking and serve it.
With 1oz brie: 179.5 calories, 8.1g fat, 20.5g protein, 5.4g carbs, and 402mg sodium
.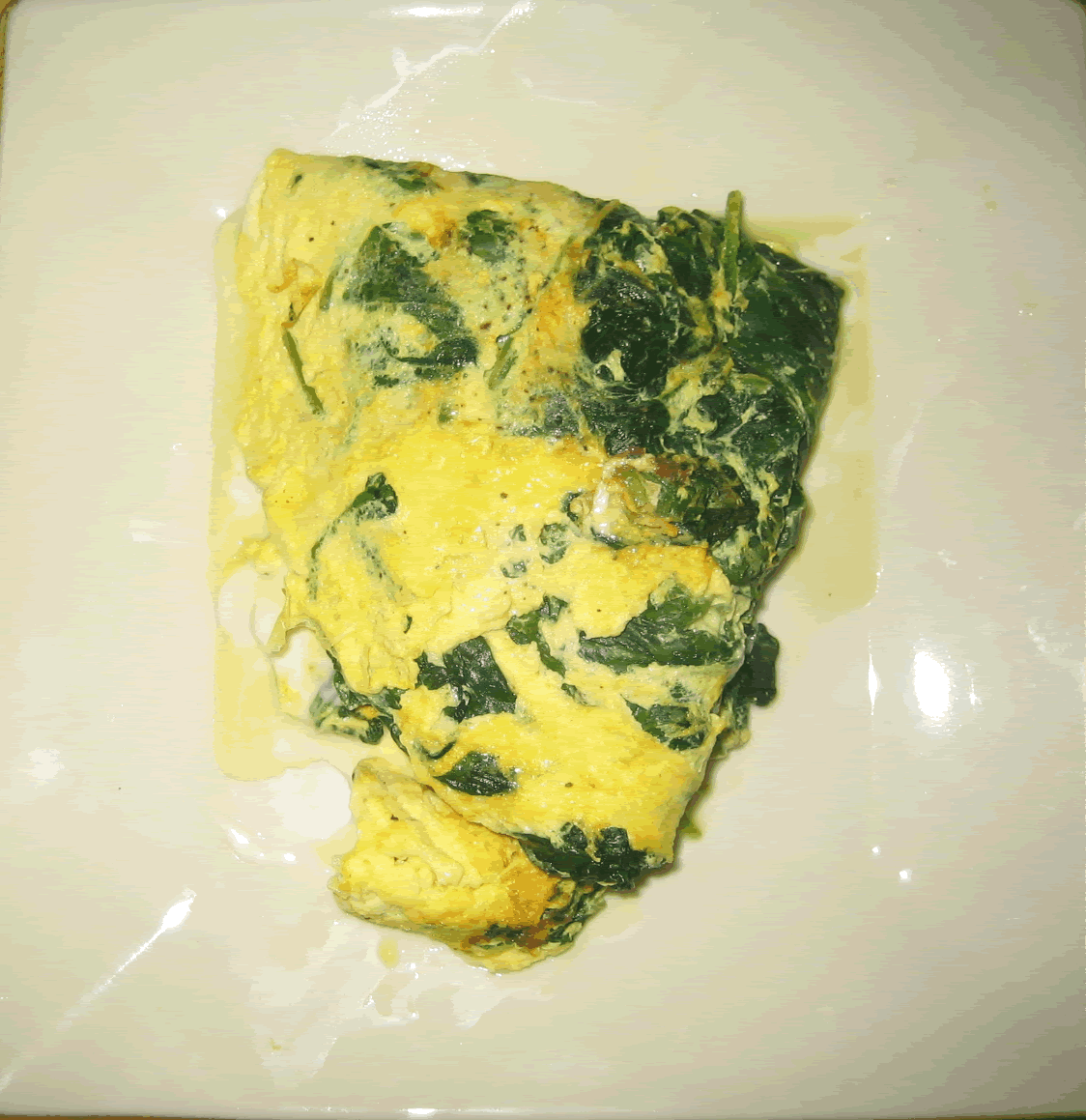 10)
Multi-grain Oatmeal
: A cold weather favorite for me. Multi-grain oatmeal cooked on the stovetop with 1 cup fat-free carb countdown milk (or reg skim milk), 2 tbsp of raisins, sugar-free vanilla syrup, some Splenda or Sweet n' Low brown sugar substitue and a dash of cinnamon.
11)
Breakfast Soft Polenta
: Cook 1 serving of polenta (1/4 cup cornmeal) according to package instructions but using skim milk in place of water (assuming 1 cup total of milk). Once cooked, sweeten to taste (I like honey or brown sugar substitutes) and add cinnamon. Stir in your favorite dried fruit or thawed frozen fruit, top with nuts (optional) and enjoy.
Without any fruit: 205 calories, 1.3g fat, 12g protein, 36.3g carbs, 173mg sodium
.
12)
The Best Baked Oatmeal
: I love this dish a lot! It's another
Cooking Light Magazine
recipe that I altered a bit. Combine 1/2 cup oatmeal, 1/2 tsp brown sugar substitute, 2 tbsp raisins, and 1/4 tsp baking powder in a bowl. Then combine separately 1/2 cup fat-free milk, 2 tbsp no sugar added applesauce, 1/2 tbsp Promise fat-free spread, and 1/4 cup egg substitute. Add the wet to the dry and put in a single serve casserole dish coated with cooking spray. Bake at 375 degrees for 15 to 20 minutes. Add a dallop of fat-free whipped cream and serve.
With raisins: 291.6 calories, 3.1g fat, 15.7g protein, 50.7g carbs, 206mg sodium
.
13)
Crepe Variation
: I like this one well enough. I use 1/2 cup eggbeaters and add sweetner then start cooking it up as a crepe. I flip the crepe and top with 1/8 cup fat-free ricotta and 1/2 a tsp of jam then fill with fruit. I roll up the crepe and repeat with the rest of the egg to make the second one.
14)
Blueberry Heaven
: My
favorite
breakfast at the moment! Split and toast a
Western Bagel Blueberry Alternative Bagel
meanwhile heating 1/4 cup fat-free ricotta with a little sweetner (15 seconds in the microwave). Top toasted bagel with ricotta then 3/4 cup fresh blueberries and drizzle 1 tsp of honey over the entire thing. Oh, I was in heaven eating this one for breakfast!
238 calories, 0.9g fat, 12.8g protein, 52g carbs, 276mg sodium
.